Who says vlogs need to be long? show us your creative ideas with #movelinkmini #chocmic
[INTRODUCTION]
Hey there! Are you a vlog enthusiast who loves sharing your life? Come check out Godox #Minivlog challenge and join us now!
Sign up and score a chance to win the Godox Movelink Mini,a superb vlog recording tool. It's compact in size but packed with powerful features that cater to all your needs.
In this program, we have three themes to choose from, each of them have different prizes and chances. Come join us and Don't miss out on all the fun!
[THEMES]
Theme1: Mini Explorer Recruitment.
Time:4.20-8.31
We welcome all types of explorers from travel vloggers, shop-exploring bloggers, to street interviewers.
We would like to sponsor you with our Movelink Mini throughout your exploring experience. Don't miss the chance to become a Mini Explorer and share your stories to the world!
So don't hesitate and sign up now!
Theme 2: Baby Mini Vlog Challenge
Jointly sponsored by @godoxaudio and @Muzen.
Time: 4.20-6.7
Every baby is an angel. Their adorable voices and smiling faces are not only priceless gifts to parents, but also good cures to bad feelings in life. Take part in the Baby Mini Vlog Challenge and stand a chance to win the prize to capture every precious moment of your baby.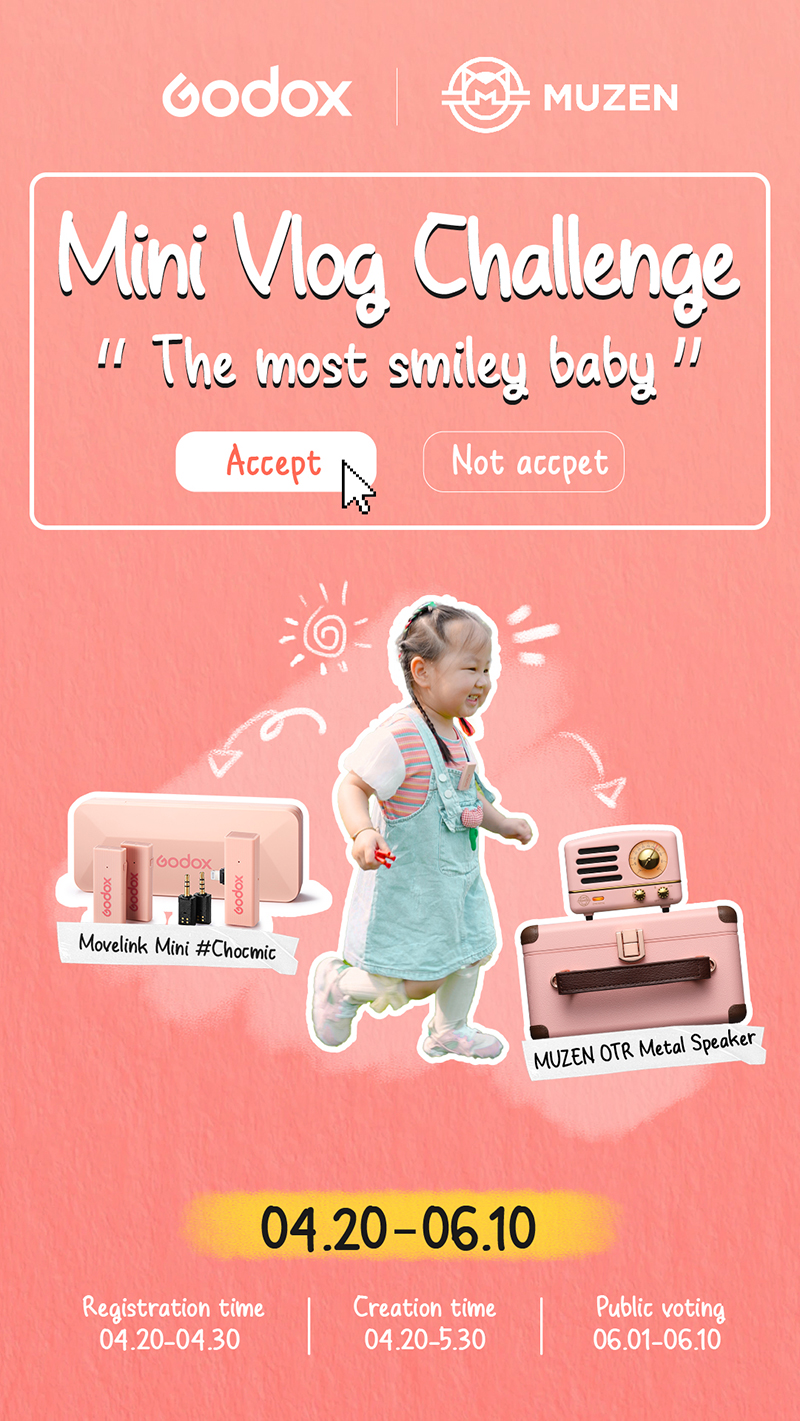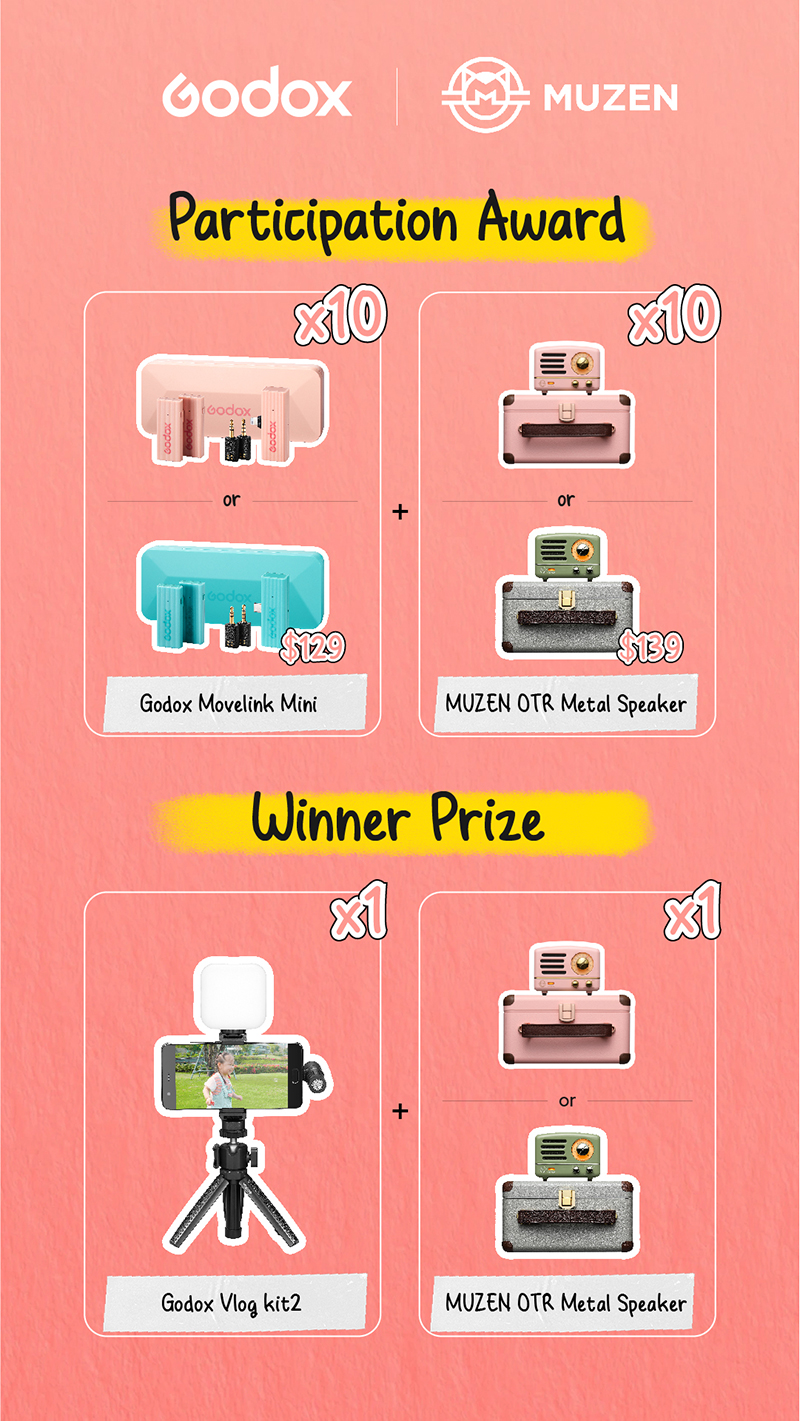 - Registration time:4.20-4.30
Participation Award: Godox #movelinkmini ($129)+MUZEN OTR Metal Speaker ($139)*10
*Ten creators will be selected. Each of them will receive a set of Movelink Mini and MUZEN OTR Metal Speaker to record their baby mini vlogs. Once you receive the prizes, please kindly deliver the created baby mini vlogs to us in two weeks. Both of the products should be featured in the vlogs.
-Creation time:5.1-5.30
-Public voting:6.1-6.07
Winner Prize: Godox #vlogkit2 +MUZEN OTR Metal Speaker *1
*On Jun.1st, we will conduct a public vote to pick "The most smiley baby" and give out our Super prize, Godox vlog kit and another color of MUZEN OTR Metal Speaker !!
Extra sponsorship:
Time:6.7-8.31
If you want to share more interesting stories of your baby after the challenge, we are opening up a sponsorship for free gear period starting from June.7.Please fill out the google form to participate in the sponsorship.
Theme 3: Puppy Mini Vlog Recruitment
Time:4.20-8.31
Do you adore NINI? The fabulous Godox puppy star? Do you want your pet to becom a puppy star like them? Then don't miss out on the chance to participate in our Puppy Mini Vlog Recruitment!
By filling the Google form in our bio link, you could win a Movelink Mini and create vlogs with your furry companion.
Each month, we will select one puppy star and give out a godoxaudio new product experience voucher, which can be used to redeem any newly-launched audio product!
[How to Enter]
For the #minivlog event, there are three themes for you to choose from. All you need to do is selecting one theme and submit your application via our bio link.
Three steps to enter:
1.Follow @godoxaudio on IG and TikTok,
2.like this post, and tag your three creative friends. Share this video to IG story/ Repost on Tiktok, tag @godoxaudio, and include the hashtags #minivlog #movelinkmini #chocmic.
3.Officially submit via the corresponding
Google form in our bio link.
We will review the forms weekly, and announce the winners monthly.
【Note】
1. After reposting this video, please do remember to tag @godoxaudio and hashtag #minivlog, #movelinkmini, and #chocmic, to qualify for registration.
2. Vloggers who participate in this sponsored #minivlog shall continue to follow our IG or TK accounts and wear our Movelink Mini in future episodes. Godoxaudio is honored to be part of your content creation.
[Godox Audio Friend Monthly Giveaway]
If you are interested in #minivlog program, please Share this video to IG story or Repost it on Tiktok with tagging @godoxaudio, #Minivlog #movelinkmini. We will randomly select one enthusiastic Godox audio friend every month and give out our Movelink Mini! Thank you for your unwavering support of Godox Audio!
Theme 1: Mini Explorer Recruitment https://forms.gle/a2mSB1P1Go3Y4dDj6
Theme 2: Baby Mini Vlog Challenge https://forms.gle/XhfiGuomiEmqGVjA9
Theme 3: Puppy Mini Vlog Recruitment https://forms.gle/zmKS4TgS2EyuPJV1A