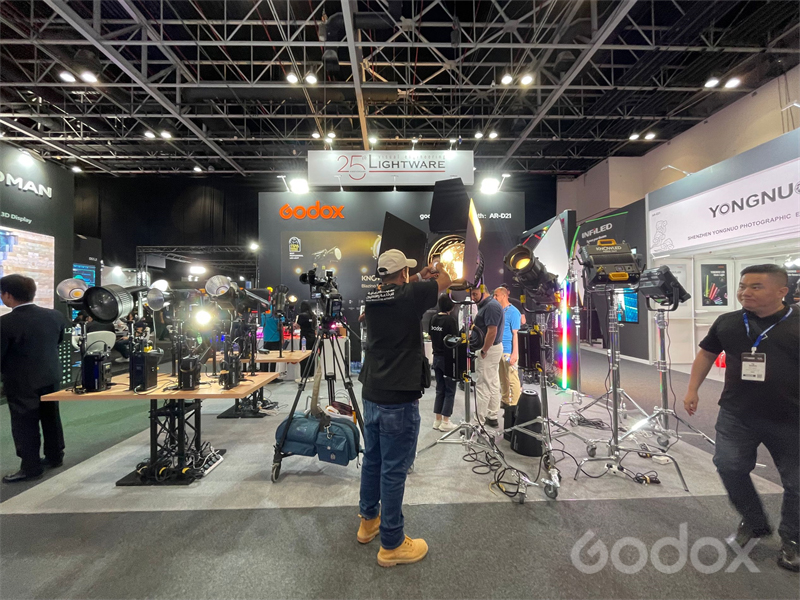 CABSAT is Middle East & Africa' s leading event for content, broadcast, satellite, media & entertainment industry professionals looking to leverage the latest technology and innovation in creating next-gen content.
CABSAT was held at Dubai World Trade Centre from May 16th to 18th 2023. At booth AR-D21, Godox together with Advanced Media Trading LLC brings a lot of products such as KNOWLED MG1200Bi, P600R, P600Bi hard, P300R, TP series, Dive lights and more.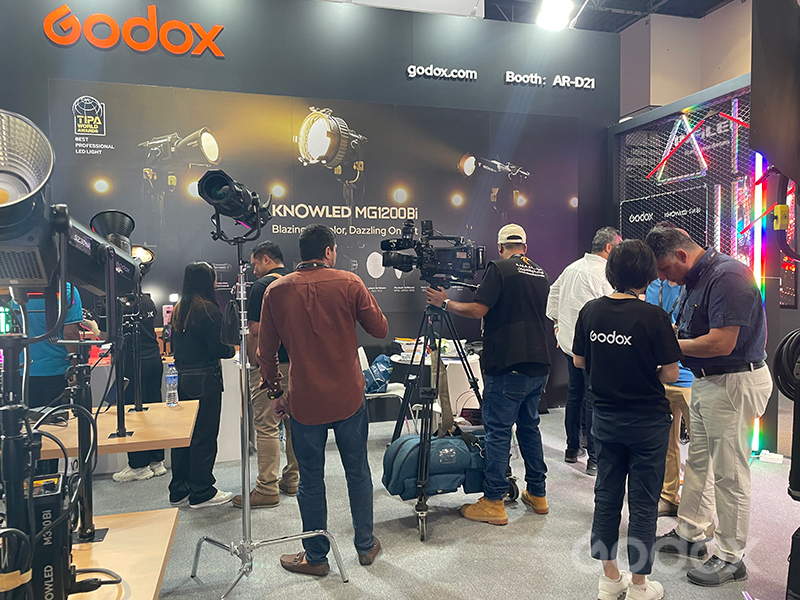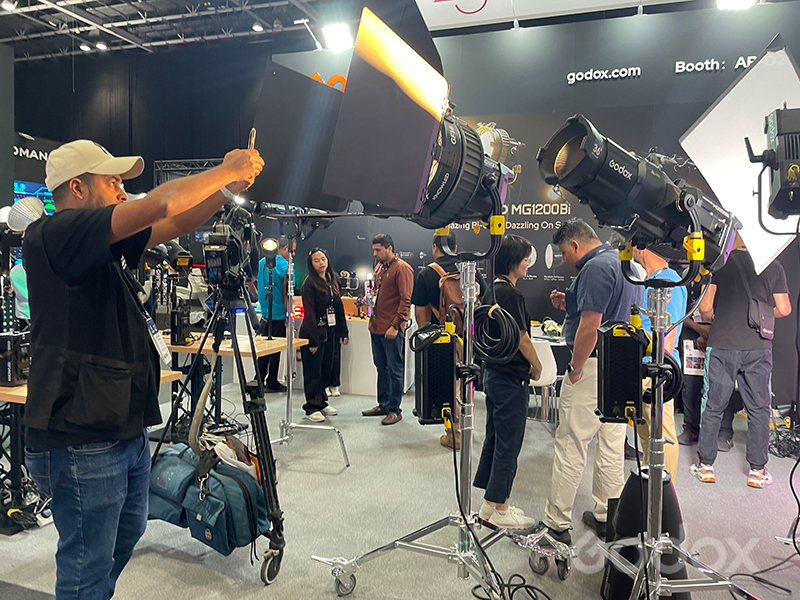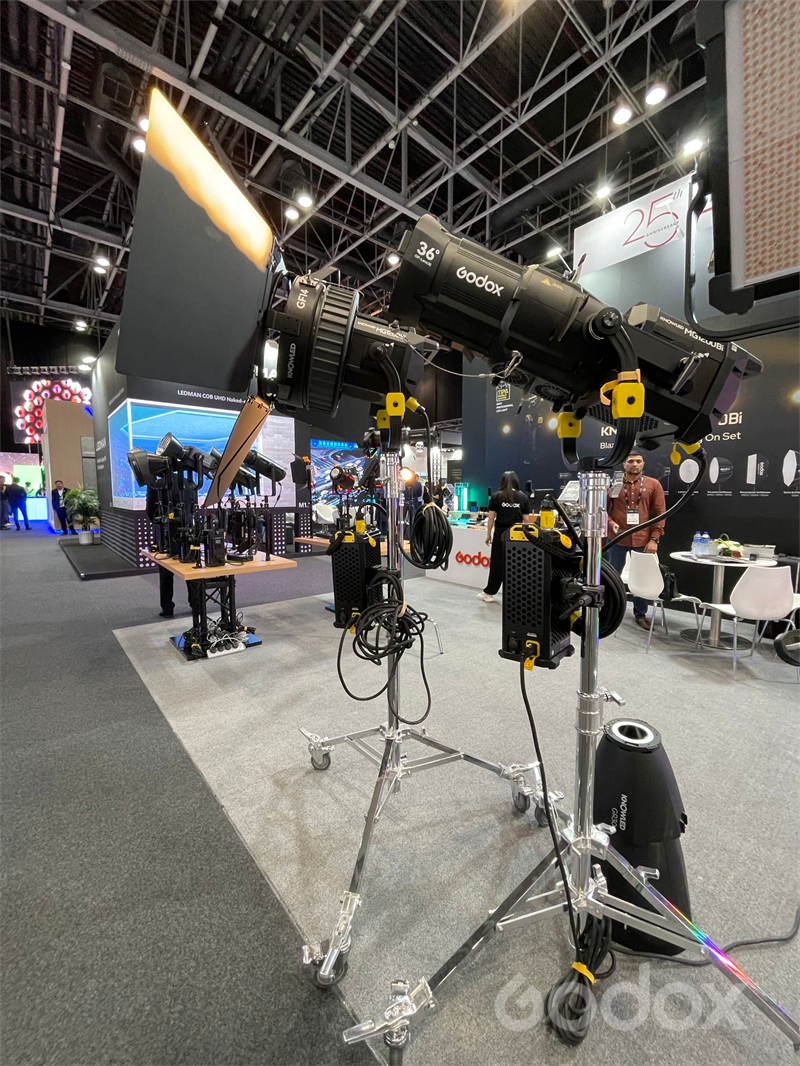 KNOWLED Bi-color LED Light MG1200Bi
The foremost highlight was the MG1200Bi LED, which is an upgraded version of the M series of continuous lighting. This cutting-edge game-changer is equipped with a robust 1200W draw that spans all color temperature ranges, between 2800K and 6500K. With an innovative G-mount mounting system design and unprecedented COB blending technology, the luminous efficacy lifts over 30% of the same power consumption, realizing less than 1400Watts power consumption but over 1200Watts power draw. The light brightness is far more exciting, on par with a 2.5K HMI Fresnel. Leveraging a four-light bracket, the brightness can compete with a 10K HMI.
What makes it outstanding is its precise dimming of real 0.1% — offering users subtle control over their lighting, its color-accurate light-fidelity, flicker-free feature under high-speed camera shooting, and IP54-rated. Versatile user scenarios are provided by just a G-mount MG1200Bi with many kinds of G-mount optics look. MG1200BI could be one of DoP's best choice for bi-color LED light.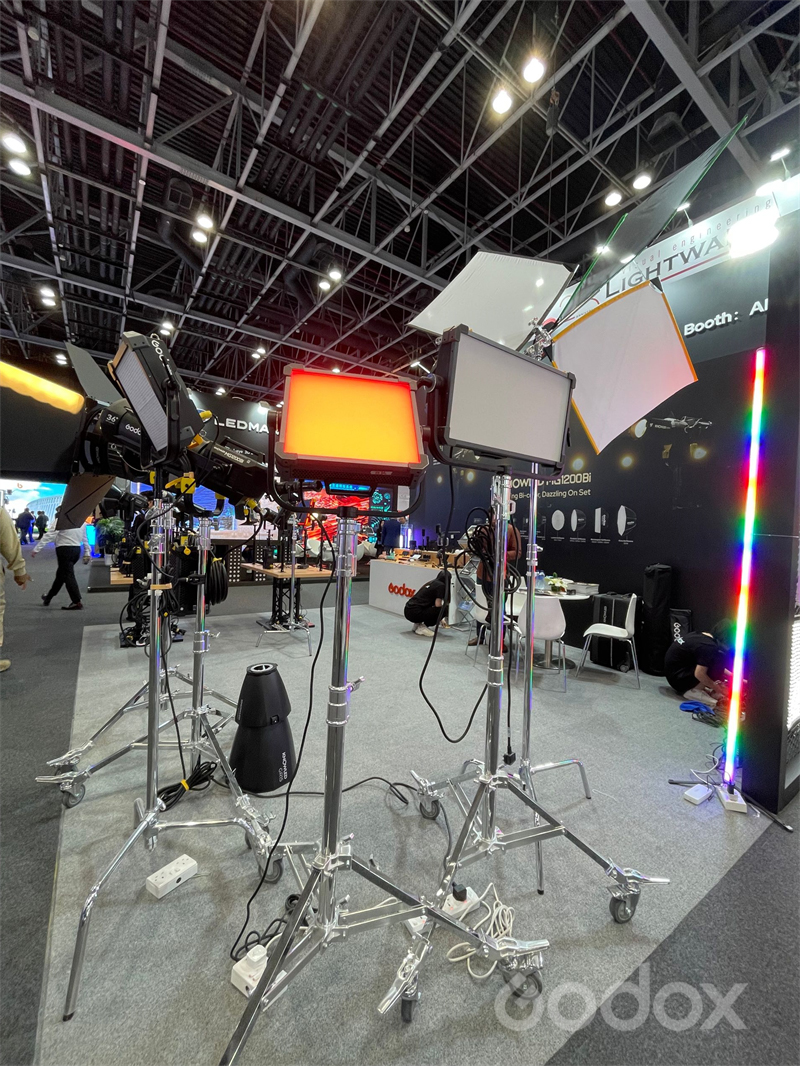 P300R LED Panel Light/ P600R LED Panel Light
P300R is a 1 by 1 RBG panel light with a power output of more than 300 W cross all CCT range. P600R, a 1 by 2 RGB panel light, outputs at over 600W through all CCT range. Smaller size but higher output. An other uniqueness makes it stand out from the crowd is they have 4 and 8 square-shaped pixel-density separately, and the pixel mapping effect is more vivid. They provide with accurate color, high brightness, high power density and efficient heat dissipation. Besides various professional control methods, flicker-free capability, high color fidelity, with built-in batteries, the two lights are easy to operate and there are a bunch of accessories for you to choose.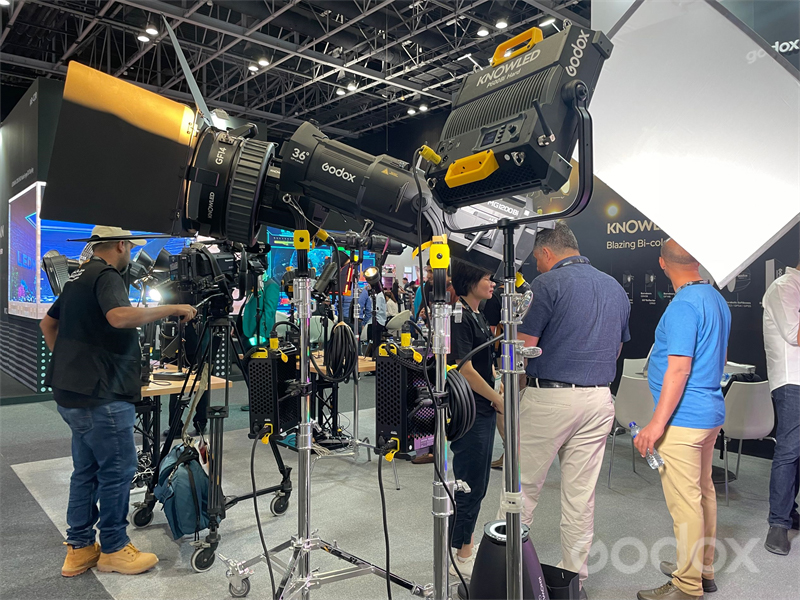 KNOWLED Bi-color Panel Light P600Bi Hard
P600Bi is a 1 by 1 panel bi-color hard-source light with a power output of over 650 W spans all CCTs. The hard-source light beamed at a far distance, ideal for large-area lighting, especially as space lighting in production. Apart from diverse professional control connection choices, with external antennas and automatic frequency hopping capability, it ensures stable signals all the time. With a much lighter weight versus its counterparts, a perfect cooling system, flicker-free capability, and 0.1% precise adjustment, the P600Bi Hard is designed for production-ready standards.
TP2R/TP4R/TP8R KNOWLED RGBWW Pixel Tube Light
Godox released the TP LED Tube Light Series. The lights in the lineup deliver DMX, CRMX, RDM, and wireless control via the Godox Light 3.0 App. Interior batteries work for about two hours of runtime, or continuous AC power can be utilized. They are available as individual units or in kits of 4 or 8 lights, with tube lengths ranging from 2-feet to 8-feet.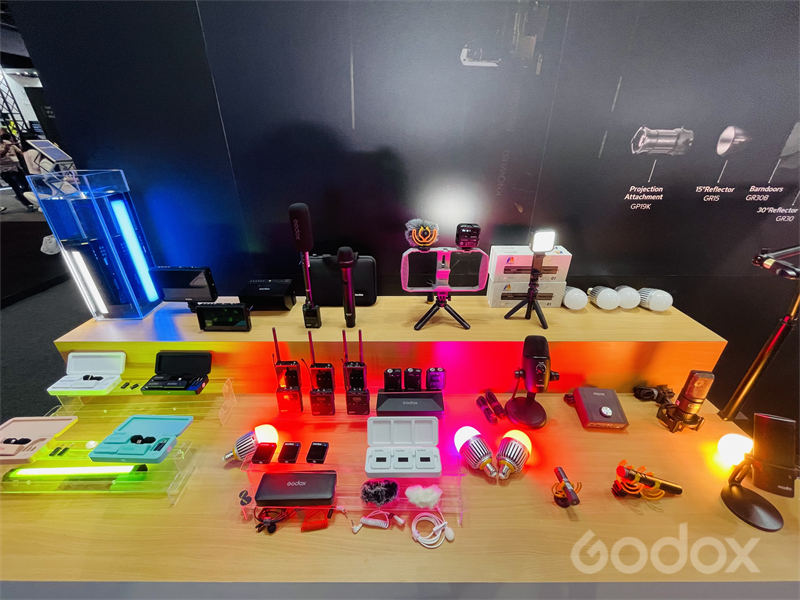 WT25R/40R/60R WT25D/40D/60D Dive Light Series
Godox just announced their series of Dive Lights for underwater filmmaking and photography. The compact WT Series tube lights come in 10, 15, and 25-inch sizes and are water-resistant down to 40 meters. They mount effortlessly to cameras and accessories, offer CCT, HSI, GEI, and RGBWW modes, and come in a broad range of colors for submerged usage. All sizes are available in daylight and RGBWW models.
KNOWLED RGBWW Creative Bulb C7R C10R
The KNOWLED RGBWW Creative Bulb is a versatile lighting option commonly used in film production. It offers a full range of RGB tunable colors and has stable, flicker-free quality. Through Bluetooth control -Godox Light APP 3.0, the bulbs can be used in various settings, such as table lamps, warning lights, or party decorations. With a built-in battery, the C7R bulb can be placed anywhere you need it. Its constant power draw ensures consistent brightness even when the battery power decreases, or the temperature rises.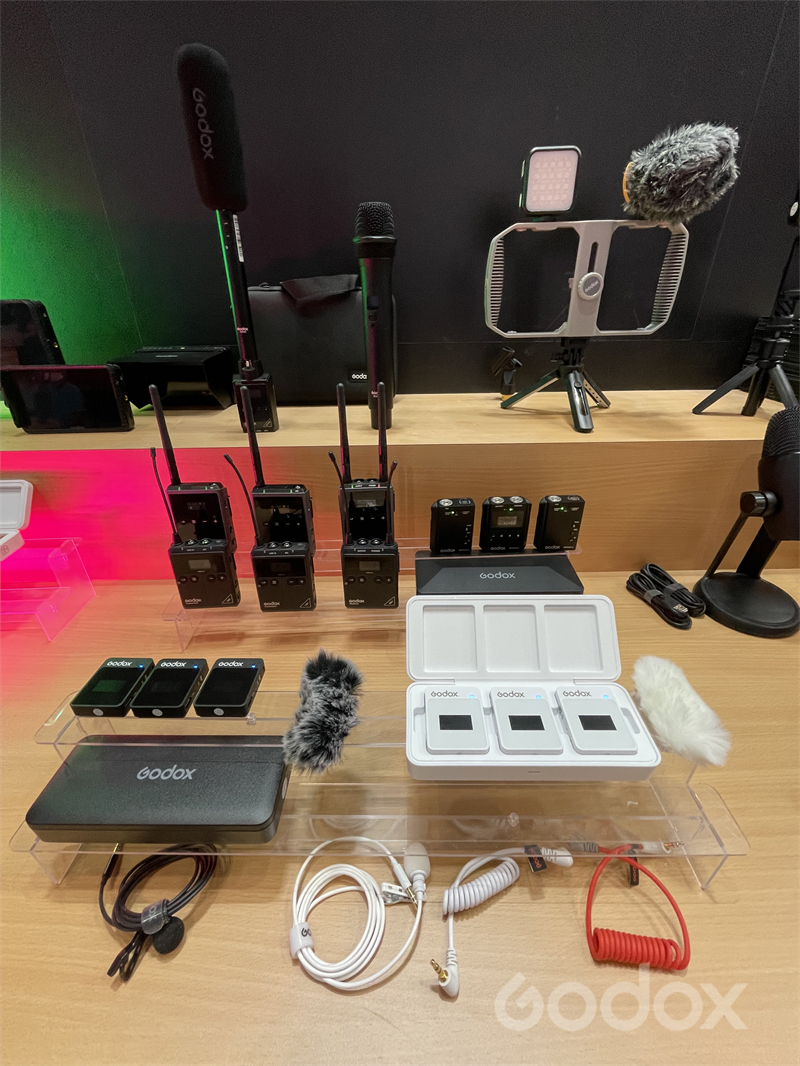 Wireless Microphone MoveLink II
Audio products are also exhibited at Godox' s booth. MoveLink II provides every feature needed as a run-and-gun audio kit. It adopts advanced noise-canceling tech, which reduces annoying ambient noises with only one simple press. With a maximum 100-meter transmission range, distance won't limit your creation anymore. With Portable Charging Case, you can charge two transmitters and one receiver together with only one type-c cable.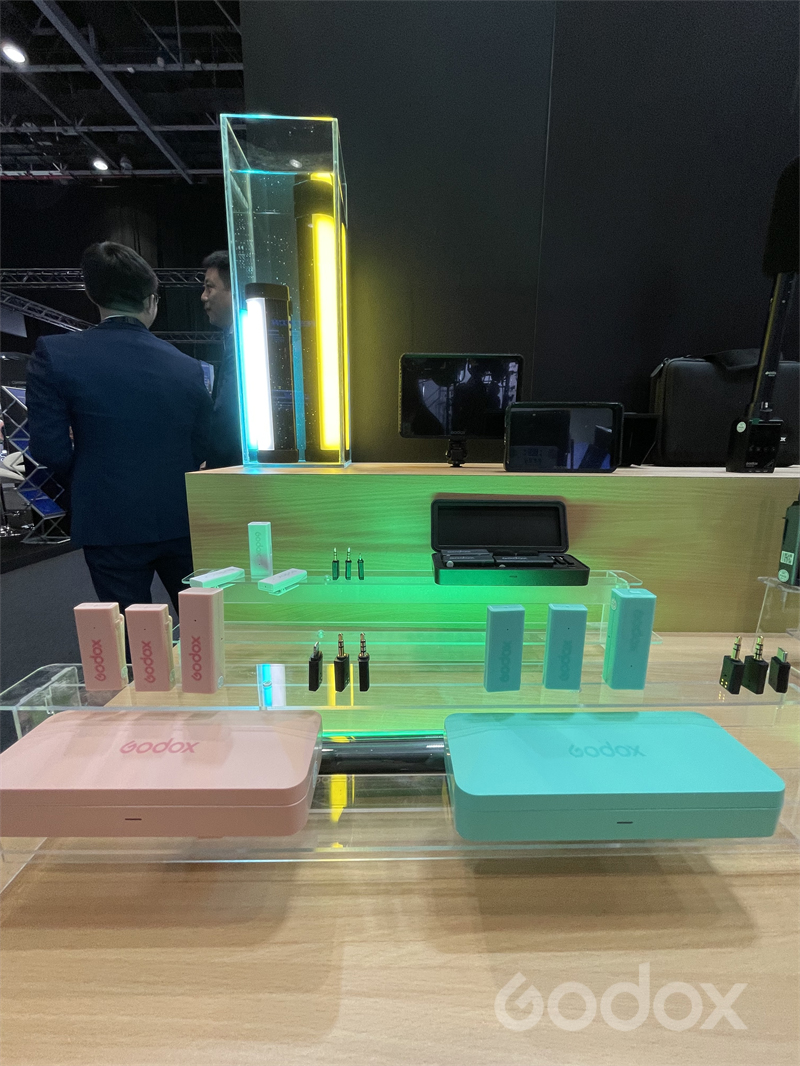 Wireless Microphone MoveLink Mini
With enhanced sound pickup and excellent noise reduction tech, the 360° omnidirectional voice pickup mic delivers crystal-clear and natural quality, missing no more details. Additionally, the included foam windscreen can also be used for you to effectively reduce unwanted noise like the possible friction between the skin and clothes. With a 100m line-of-sight transmission distance, it works perfectly indoors and on-site. Including an extremely compact and portable charging case, which also can be used as a storage box for you to quickly organize, store and transport, it is born for those who are always on the go.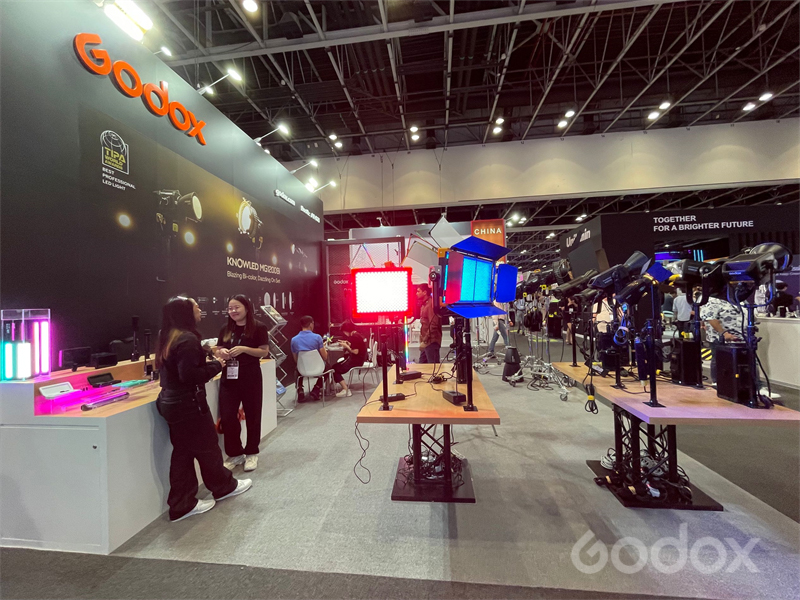 We want to express our sincere gratitude to Advanced Media Trading LLC for collaborating with Godox to showcase our products at CABSAT! We also want to thank all the visitors who stopped by our booth, and your continuous support for Godox means a lot to us. Welcome to meet us at Cine Gear LA Expo 2023 at Booth S1429 between June 2-3!
For more product info at local, please visit : https://www.amt.tv/