Reemix 3-in-1 Remote Control
Trigger Studio Strobe
Connect REEMIX with your studio flash to trigger synchronously. Multi-channels enables you trigger more than one strobe at the same time.
Control Flash Speedlite
Mount the transmitter onto your camera and attach the receiver to your speedlite hotshoe. You can wirelessly control your off-camera flashgun. Recommend to have more REEMIX receivers to create multi-slave-flash shooting environment.
RMII is Equipped with umbrella holder and angular rotation bracket, which offers more
flexible use.
Release Camera Shutter
REEMIX has different cables to support Canon, Nikon, Sony, Pentex and Olympus cameras.
Set your camera in correspondence mode, you can simply release your camera shutter in auto focus, single & continuous shot, bulb and delay from a distance.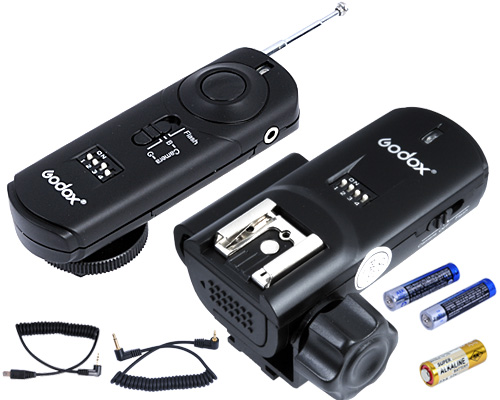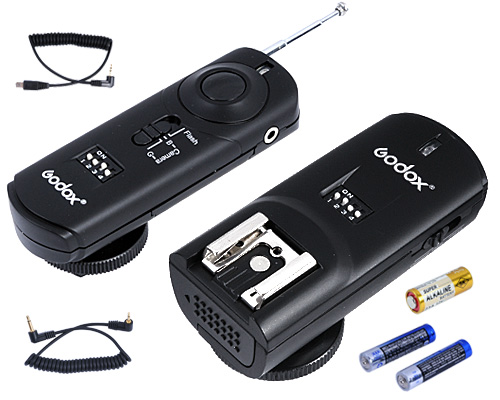 Model: RMI-C1. RMI-C3. RMI-N1. RMI-N2. RMI-N3.RMI-S1. RMI-OP3. RMI-OP12

GODOX 'Reemix' RM series has more advanced features than any remote ever offered. It incorporates the functions of studio flash trigger, speedlite trigger and remote shutter release into one unit, enabling you control studio strobe, flashgun and camera only by one set of remote.

Model: RMII-C1. RMII-C3. RMII-N1. RMII-N2. RMII-N3. RMII-S1. RMII-OP3. RMII-OP12
GODOX 'Reemix' RMII can be rotated from 0 ~ 90*and equips with umbrella holder. Different photo umbrellas can be installed on the receiver to achieve various lighting effect. The material is nylon which is stable and durable. The design is exquisite and petite.
| | |
| --- | --- |
| Transmit frequency: | 433MHZ |
| Workable range: | within 100m |
| Channels: | 16 |
| Battery for transmitter: | 12V23A |
| Battery for receiver: | 2XAAA |
| Sync speed: | 1/250S |