Hugo Pinho is a travel and exploration photographer who adores the shooting style of the 1990s. In this article, he exposes us to a section of photography history as well as the characteristics and functions of the Lux Junior and Lux Senior from Godox.
Over the last few years, Godox has gained recognition – especially among professionals, by launching a set of quality models, rich in features and priced quite below their most direct competition. Just think of the AD600 Pro and AD 1200 Pro strobes for studio or location use. And, of course, the Godox AD200, extremely popular with wedding and portrait photographers.
Flashes have evolved immensely, with capabilities unthinkable a few years ago, turning almost into mini-computers with a rather complicated operation, and have become used almost exclusively by professionals. But it was not always so. What changed then?
From the first emulsions on glass plates to the widespread use of film, the sensitivity of the support was extremely low, which required the use of a strong, instantaneous light source, which made it possible to capture the photograph in a fraction of a second. Surely everyone remembers having seen films in which the photographer holds a small tray with flash powder, which, when ignited, causes an intense explosion of light.
Meanwhile, safer and more practical processes have been developed. Some of you will remember the Kodak flashcubes, so popular in the 60s and 70s, but they only allowed 4 uses (one for each side of the cube). The use of flash cubes and flash bulbs gave way to electronic flashes when their price became accessible to the amateur market.
Before the massification of digital photography, and thinking particularly about the decades between the 70s and the 90s, many of us remember that the flash was almost always present in all cameras. It was built-in in compact cameras, and in SLRs or rangefinders, it was an essential accessory. Film stocks for amateur and general use had sensitivities between 100 and 400 ASA, which was clearly insufficient for indoor use or on those darker days. This on-camera flash aesthetic has marked several generations – just open a childhood photo album to remember what it was like.
With the transition to digital and its progressive evolution, cameras began to have incredible results at ISOs of 800, 1600, and even higher, making flashes obsolete. Moreover, in an attempt to depart ourselves from a not-too-distant past when the use of flash was more of a necessity than an option, most of us avoided using it. The hundreds of articles and YouTube videos in which the "experts" tell you to never use on-camera flash, are the result of this evolution in aesthetics, trying to escape from a recent past when 400/800 was considered high ISO, almost as if it embarrassed us.
But aesthetics is not an exact science. It's in constant motion, sometimes in circles. My kids loved watching every season of Stranger Things. They thought their clothes were amazing and funny at the same time, but also their bikes, their houses, and then the technology of the time… it was just awesome! And I enjoyed watching this series as much, or maybe more than they did. That feeling of nostalgia for a time when life used to be simple washed over me with every episode, and this series conquered the hearts of everyone, of all ages. It is no coincidence that Kate Bush reached Number 1 in the UK chart.
But this feeling is not new, nor did it start with Stranger Things. Just think about the evolution of cameras, which looked like hi-tech tools from the space age, and nowadays, many of us prefer the looks of retro-styled camera models. The OM-D line does justice to the heritage of Olympus' OM series. The same with the PEN lineup, with the maximum exponent of elegance achieved with the PEN-F.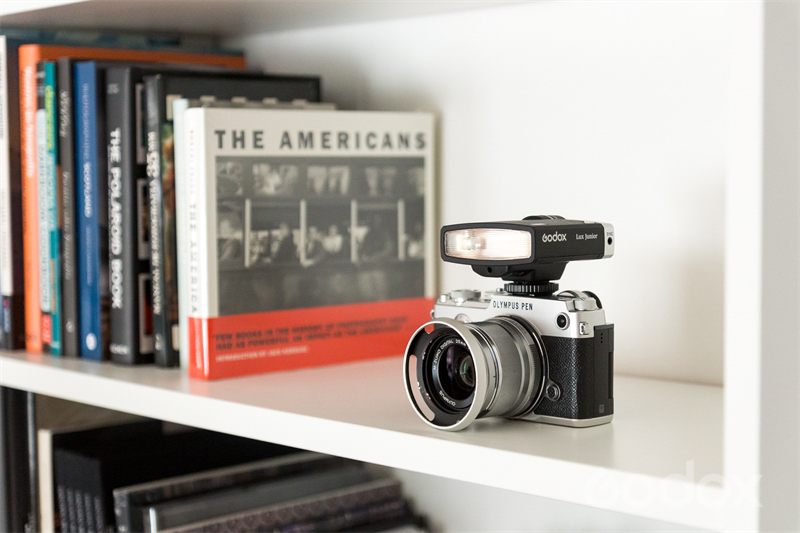 Olympus PEN-F, with the Godox Lux Junior
And this whole introduction is just to say that this is the context where Godox took everyone by surprise. Because if, in clothing, sneakers, and the music we listen to, it has become plain normal to return to the past, in the technology world this is not the case. We always look for new developments in cameras, computers, smartphones, or electric cars. More advanced in each generation, more capable, and more complex technology. And in an incredibly bold move, Godox's latest announcement was not one step forward but two steps back, introducing us to the new Godox Lux Junior and Lux Senior.
The Godox Lux Junior
The Godox Lux Junior is a very compact and lightweight retro-inspired camera flash that will fit in any pocket, always ready to put on and ready to use in seconds.
You can read the technical specifications on the official page because here, I will just say that it has a GN12 (ISO100, in meters), weighs 130g and is powered by a pair of AAA alkaline batteries.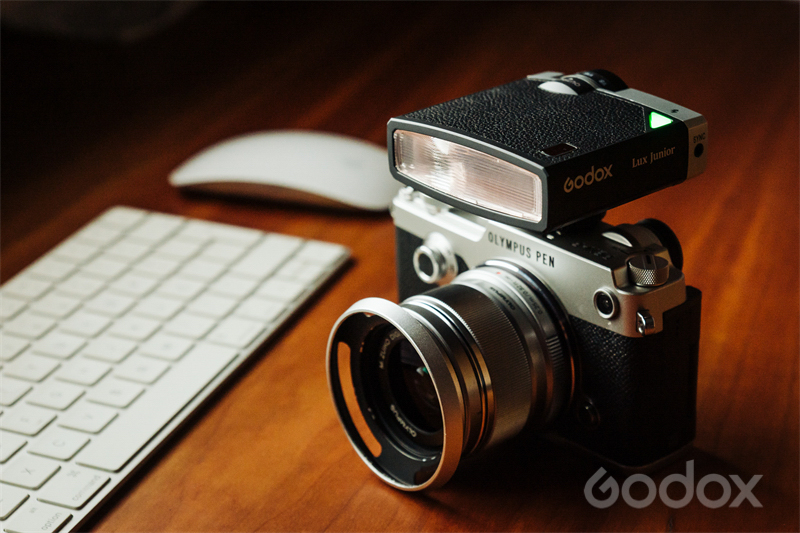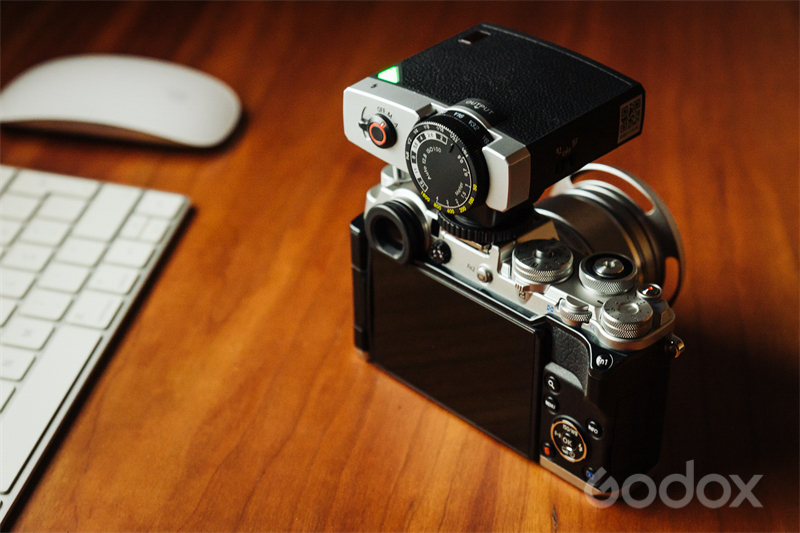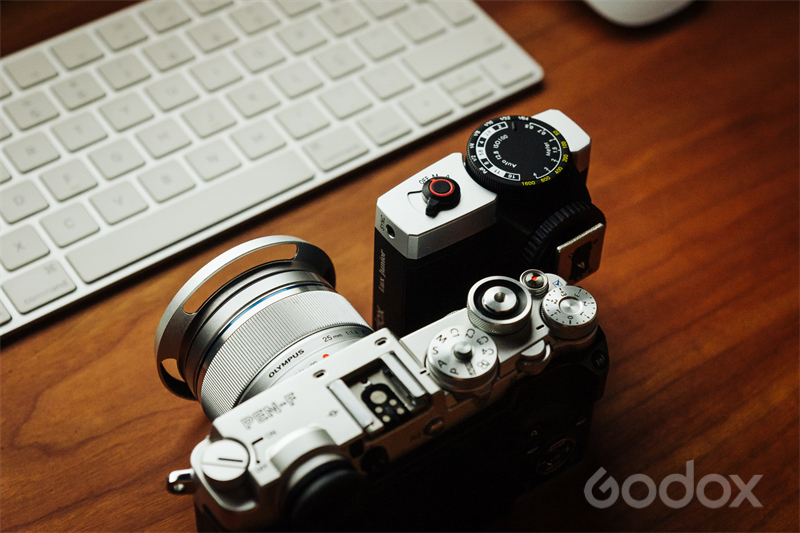 It looks great with my PEN-F, looking like it was made on purpose with this camera in mind. As a matter of fact, if we take a good look, the chrome finish with the black leatherette is very similar to the one on the PEN-F.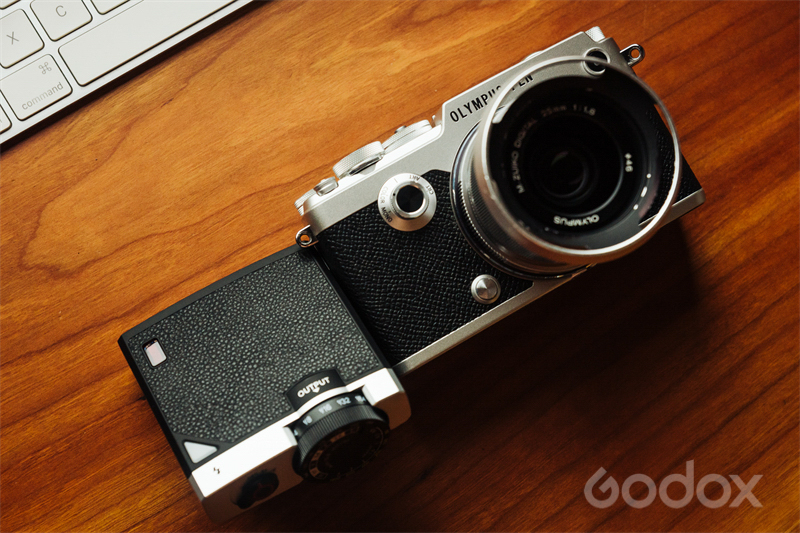 The operation is straightforward and effortless, as intended. The power switch toggles between Off, Manual and Auto.
Placed in Manual, it turns on, and in seconds, a small light changes from red to green, indicating that it is ready to use. We control its intensity through a dial, along 7 steps between 1/1 (full power) and 1/64 (minimum).
Inside this dial is another one, which does not control any function on the flash, being just a calculator to help determine the appropriate power level. Anyone who used flashes in the 80s will feel right at home, as the calculation principle is the same, playing with the variables aperture, ISO and distance to the subject. Actually, I didn't pay much attention to it because after a few days of use, it became much faster just to use my intuition.
The Auto mode is not what the name might suggest because it is not a TTL flash. It is necessary to follow the indications according to the table in the instruction manual, as seen below.
ISO
50
100
200
40
800
1600
Aperture
2
2.8
4
5.6
8
11
Distance
Max. 4 meters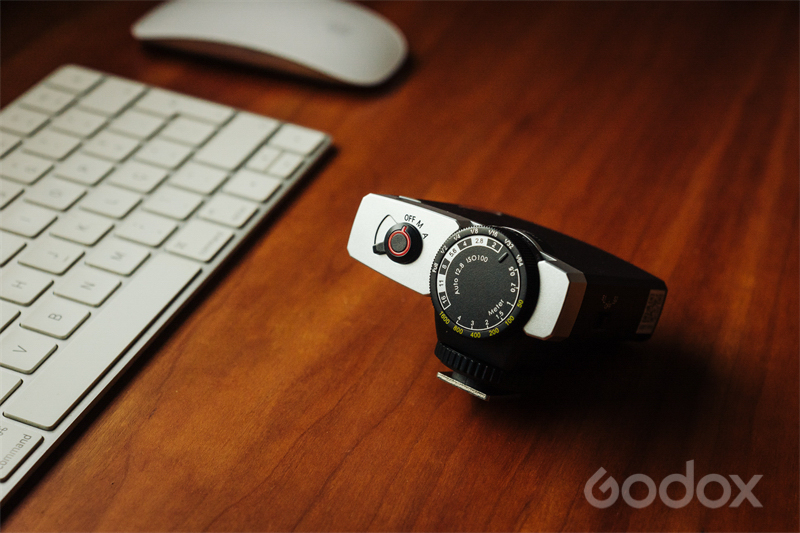 There are also two optical Slave modes, which can be helpful if you want to use multiple flashes simultaneously or play with an off-camera flash for more creative effects.
INSIDE THE BOX
I must start with the box itself, well crafted and elegant, anticipating something good inside. A bit like the Olympus camera boxes. Opening it, we find the flash, and underneath a thick sheet of dense foam, the instruction manual, a storage bag and a sync cable in case we want to use it resting on a bracket next to the camera, and not on the hotshoe. The inclusion of the storage bag is very welcome for travel, and is made of a velvety fabric, thick and soft.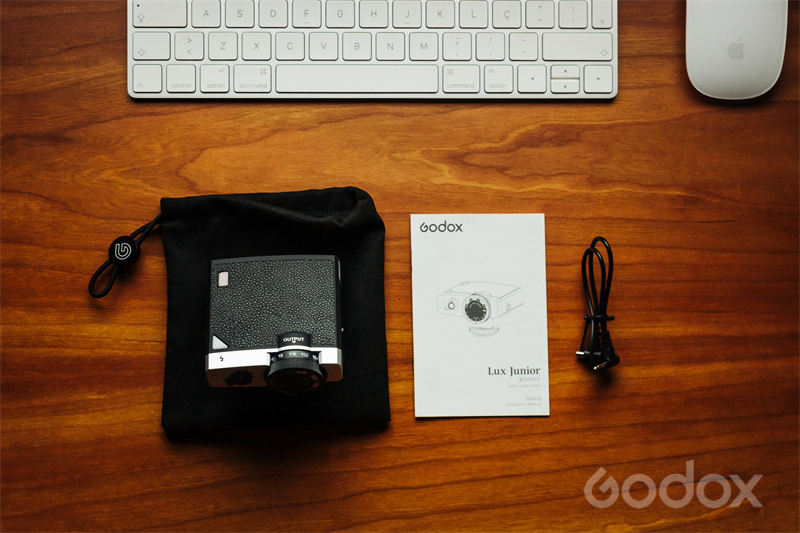 USER EXPERIENCE – GODOX LUX JUNIOR
To get started, the whole operation is very straightforward, as you want in a flash like this. Just insert two AAA batteries (not included in the box), turn it on, and in about 6 seconds, once the light turns green, it's ready to use.
After some testing using Auto mode, I chose to use Manual mode because it allows me to make incremental adjustments and play with exposure. As I mentioned before, after a while, it becomes very intuitive to choose the power level, which is adjusted so easily just by turning a dial.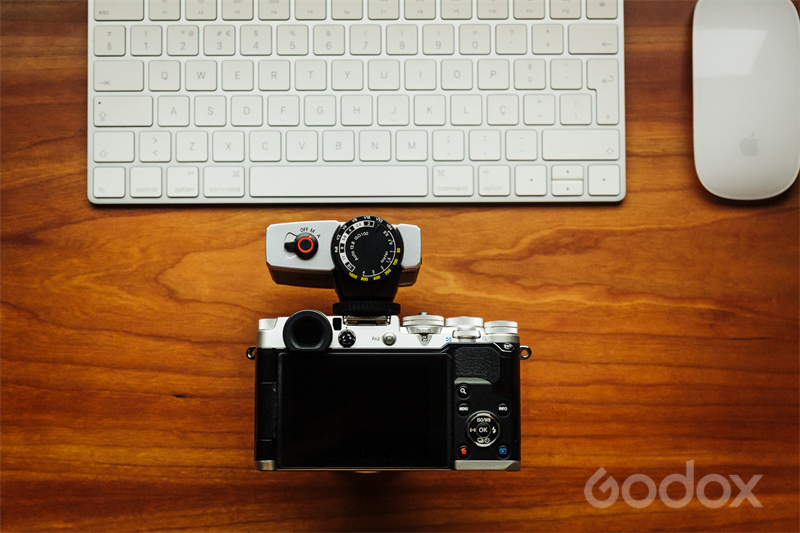 In the film days, if we had a roll of 100 or 200 ASA inserted in the camera, that would be what we would use while the roll lasted, day and night, outdoors or indoors, unlike what happens now, where we can vary ISO according to the needs. But we didn't use the flash only when indoors, we also used it outdoors on well-lit days, whether to photograph someone backlit or to give that extra punch to the image.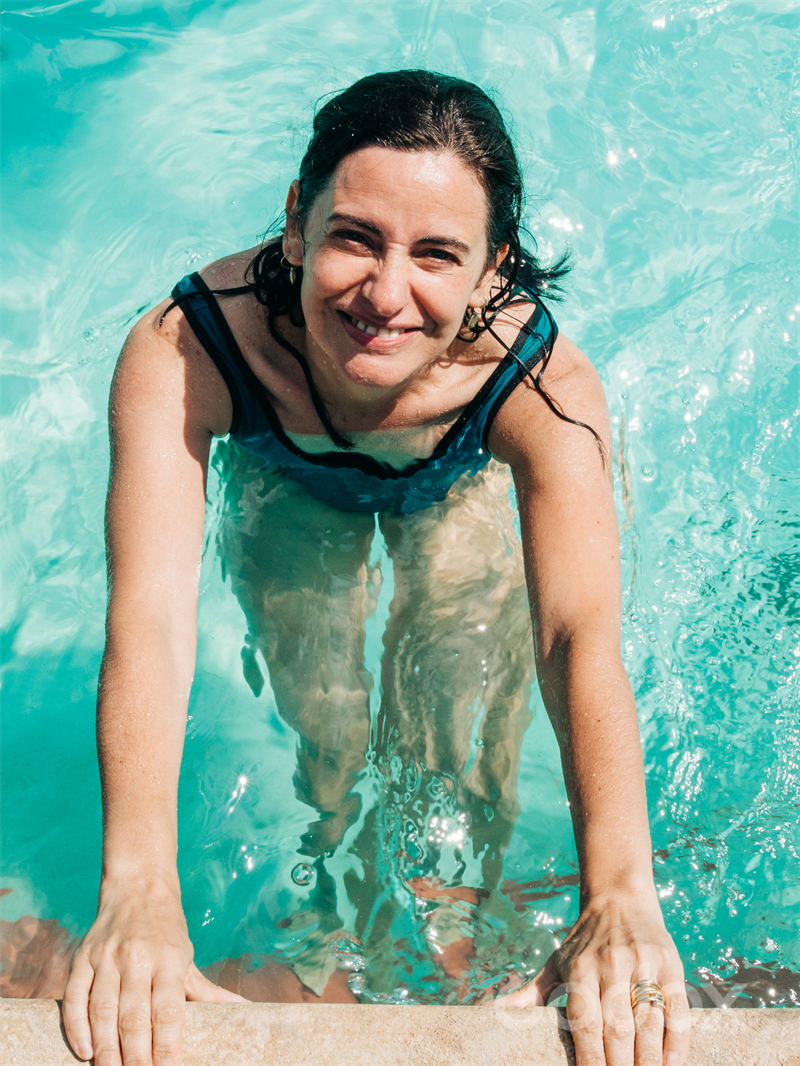 Olympus PEN-F . Olympus M.Zuiko 25mmF1.8 . f/18 . 1/160″ . ISO 200
Olympus PEN-F . Olympus M.Zuiko 25mmF1.8 . f/4.0 . 1/160″ . ISO 200
Using it indoors was just as I remembered it as a child, at birthday parties and family gatherings. Lighting conditions are no longer a concern, and despite its relatively low power, it was always more than enough for everyday use, regardless of the size of the room I was in and the distance to the subject.
THE PROS
One of its flaws – the fact that it doesn't communicate with the camera to give the aperture and ISO value, is also one of the main advantages of this flash, because you can use it with any brand of camera, digital or film. That is, if you change systems or use more than one system, you can keep this flash and use it in all of them.
But of course, for me, its looks were what won me over as soon as I took it out of the box, matching perfectly with my silver Olympus PEN-F. But I also mounted it on my all-black E-M5 Mark II, and it looked just as good.
Its small size and weight allow you to take it anywhere, even if you don't carry a camera bag.
Any flash will bring you some sort of bag or case for protection during transport, but I really liked the little velvet pouch of this Godox Lux Junior.
With a price tag of $69 (€85 in EU), it's hard to get any lower. And considering its basic functions and build quality, it's entirely fair.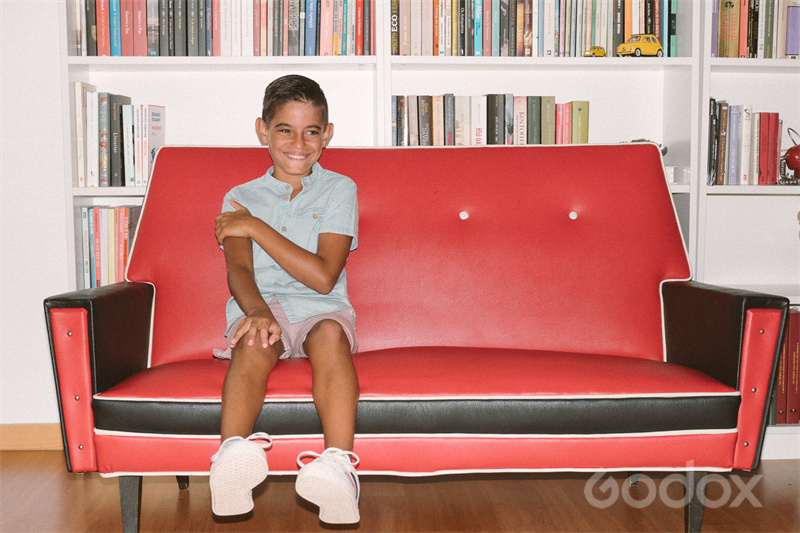 Olympus PEN-F . Olympus M.Zuiko 25mmF1.8 . f/4.0 . 1/125″ . ISO 400
THE CONS
I'm not going to point out the lack of TTL metering here or the absence of High-Speed Sync because that's not, and never was, the purpose of this flash. So I have only a couple of negative aspects to mention.
During the time I used the Godox Lux Junior, I often thought about how useful it would be if its head tilted or rotated so that it could be bounced on the ceiling or wall, a technique widely used to make a better distribution of light.
Interestingly, the Olympus FL-LM3 flash allows you to rotate and tilt its head, is much smaller, and is splash/dustproof. On the other hand, it has a GN of only 9 and is powered by the camera's battery, reducing its autonomy. The Olympus FL-LM3 is also slightly more expensive, costing $79.99 when purchased separately, and of course, it lacks the retro style of this Godox Lux Junior.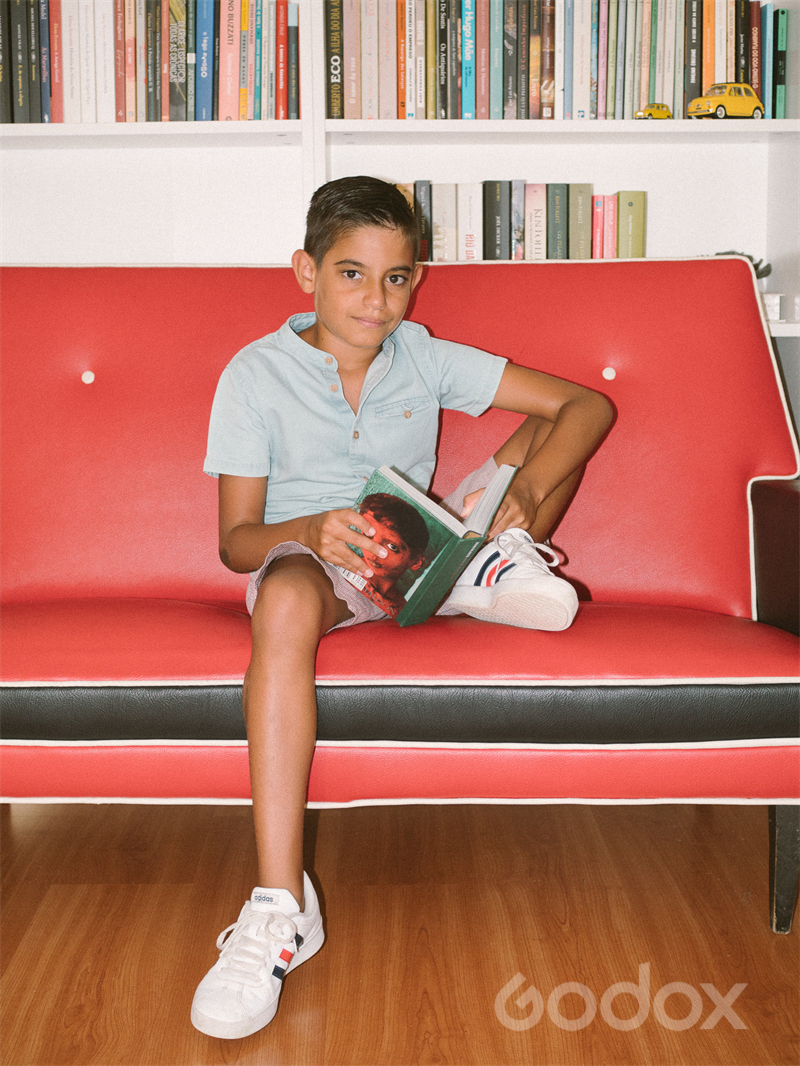 Olympus PEN-F . Olympus M.Zuiko 25mmF1.8 . f/2.5 . 1/125″ . ISO 320
Finally, the other negative aspect that I have to point out is the fact that, when mounted on the PEN-F, I easily hit my forehead on the flash, and I can't properly put my eye to the EVF's eyecup, as they are close and at the same level.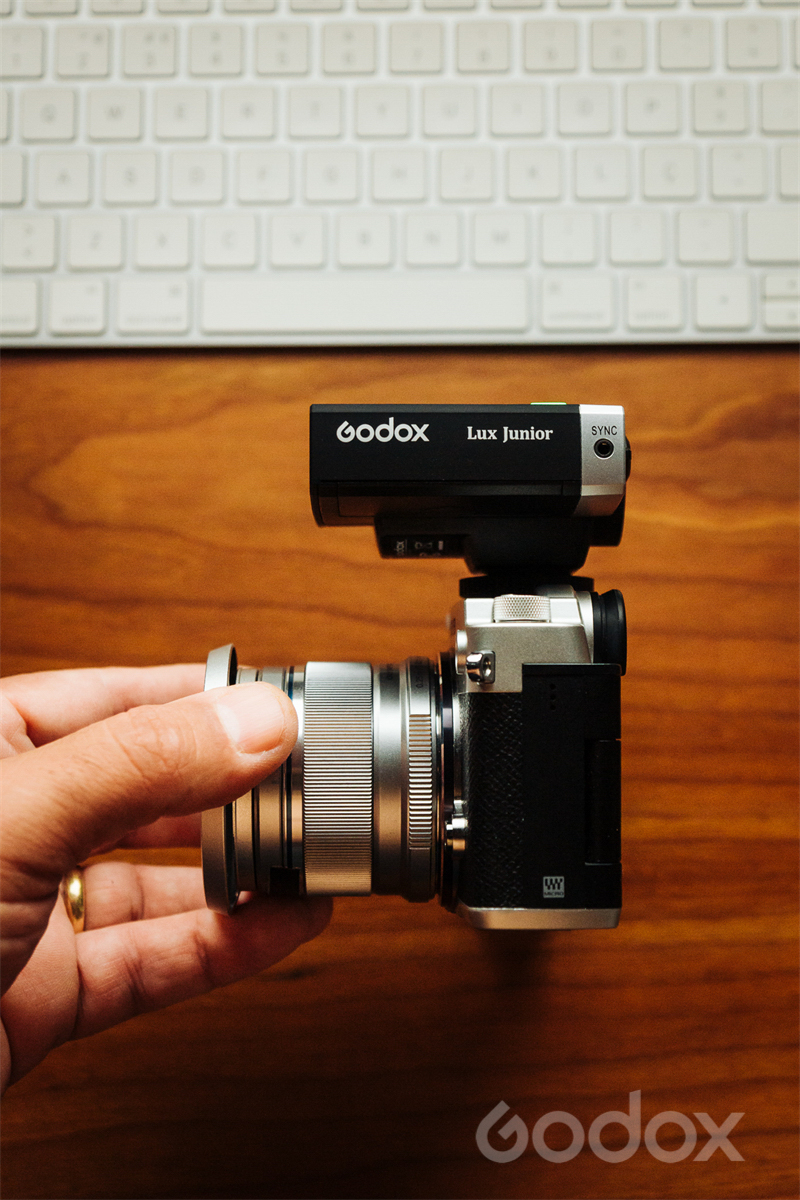 WHO IS THE GODOX LUX JUNIOR FOR
If you are a professional, cover events or do portrait sessions, Godox has the right solution for you at an unbeatable price, but it is not the Lux Junior.
But if you want to bring to your photos that "flavour" of the 80s, you will hardly find better, or at least stylish.
This flash will look great with any OM-D E-M5, E-M10 or PEN series camera, whether in silver or black.
Right now, you might be thinking, "why not just buy an 80's flash and save some money?". Well, I would think twice about putting an old flash on your current camera because they typically use a high 200-400v trigger voltage, which could seriously damage the circuits of a modern digital camera.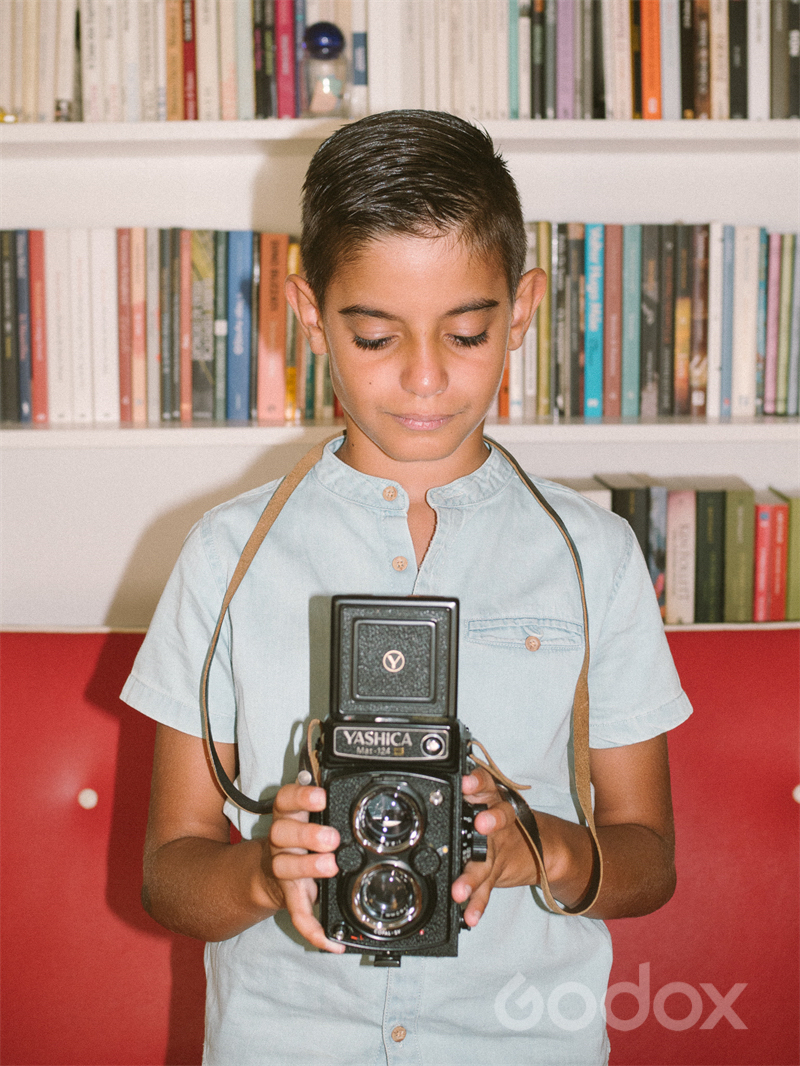 Olympus PEN-F . Olympus M.Zuiko 25mmF1.8 . f/2.8 . 1/125″ . ISO 320
The Godox Lux Senior
If you liked the Godox Lux Junior, you will love the Lux Senior, released simultaneously.
The Lux Senior is quite similar to the Junior in terms of operation, but it differs in some key points that make all the difference. Again, if you wish to read its specifications in detail, please visit the official product page. But I will list here its main differences:
● It's bigger and heavier, weighing in at 227g, but thanks to its design, it's pretty compact and easy to store when closed.
● It is not powered by alkaline batteries but by its internal lithium battery, capable of 150 shots at full power. Charging is via a USB-C cable (included in the box).
● It is slightly more powerful, GN14.
● And, saving the best for last, its collapsible fan-type reflector.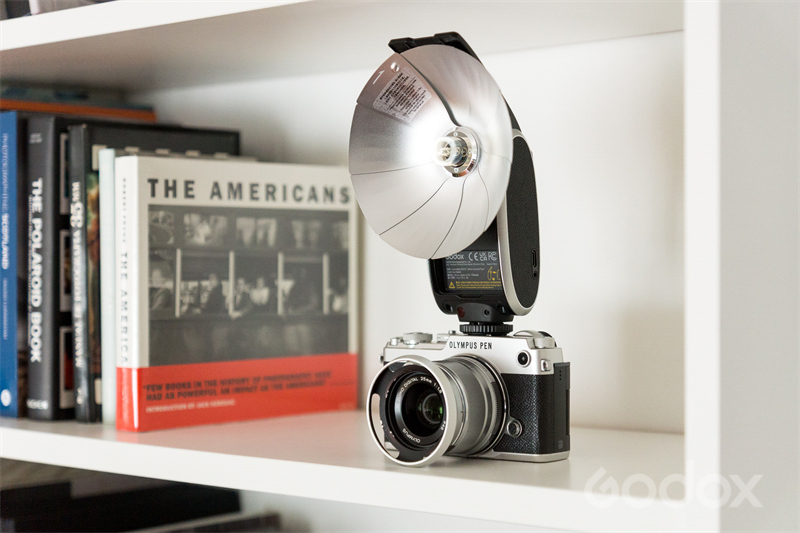 Olympus PEN-F, with the Godox Lux Senior
Just when we thought Godox had been bold with the Lux Junior, here's the Lux Senior with its collapsible fan-type reflector. Once again, and I don't get tired of saying this, sometimes the solutions for our future can be found in our past. And with this device, Godox has combined contemporary technology with the wonderful retro style of this type of flash, so characteristic of the 50s and 60s and widely used by reporters and wedding photographers from that time.
To use it requires 3 steps:

1. Cover opening;
2. Flash-bulb pop-up via a button located at the base of the reflector;
3. 360º rotation of the blades until the reflector is fully opened.
And now you will tell me it takes 3 steps more than in the Lux Junior. And you will be correct. But you have to realise that speed and ease of use are not exactly the point of this flash. Getting the Lux Senior ready to use takes time, and there is a process. But isn't it for the pleasure of the process that many people photograph film these days? Load the film into your camera, rewind it when it's finished, take it off the camera, take it to a lab or develop it at home. Putting the flash ready to use also has its process, and that's where a good part of the fun of using it lies.

INSIDE THE BOX
In this matter, the Godox Lux Senior is similar to the Junior, adding only a USB to USB-C charging cable. It also comes inside a very elegant box, and includes the carrying pouch that I liked so much.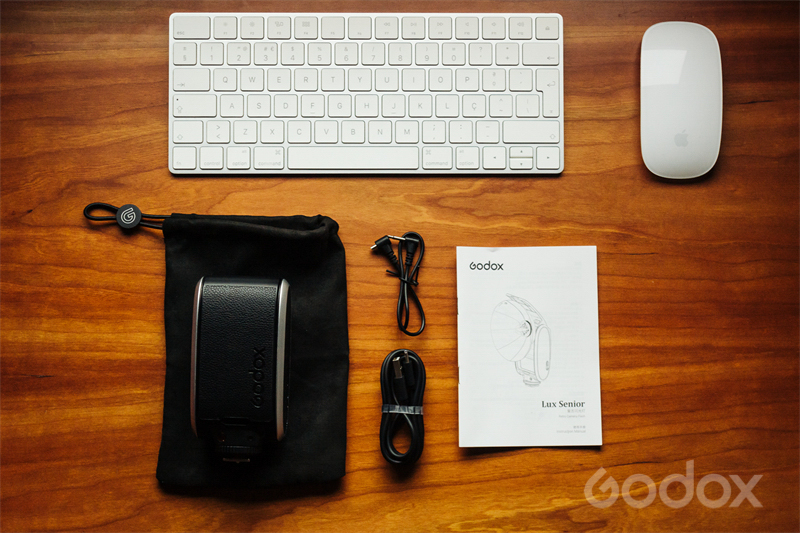 USER EXPERIENCE – GODOX LUX SENIOR
As I mentioned, once opened, its operation is similar on both flashes. However, both start-up time and recycling time (full power) are about half of what we get on the Lux Junior with two AAA alkaline batteries.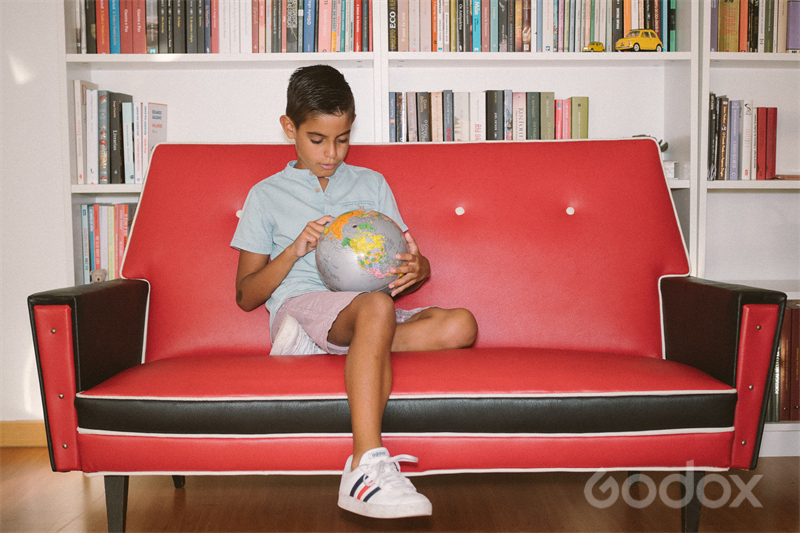 Olympus PEN-F . Olympus M.Zuiko 25mmF1.8 . f/2.5 . 1/125″ . ISO 320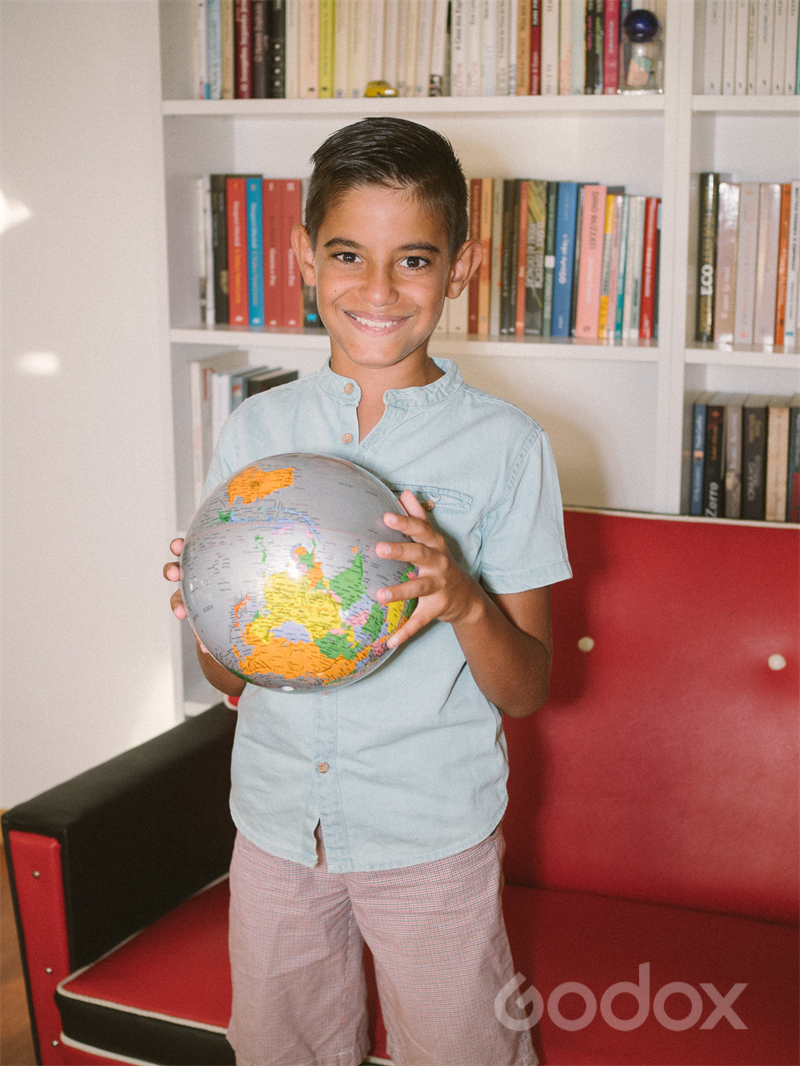 Olympus PEN-F . Olympus M.Zuiko 25mmF1.8 . f/2.5 . 1/125″ . ISO 320
The big difference lies in the reflector. Because despite presenting a naked flash bulb without a diffuser in front of it, the presence of the parabolic reflector makes a better distribution of light, almost like a beauty dish, "wrapping" the subject. It's not better or worse than a direct flash, it's just different. The results are more natural, and the contours are smoother.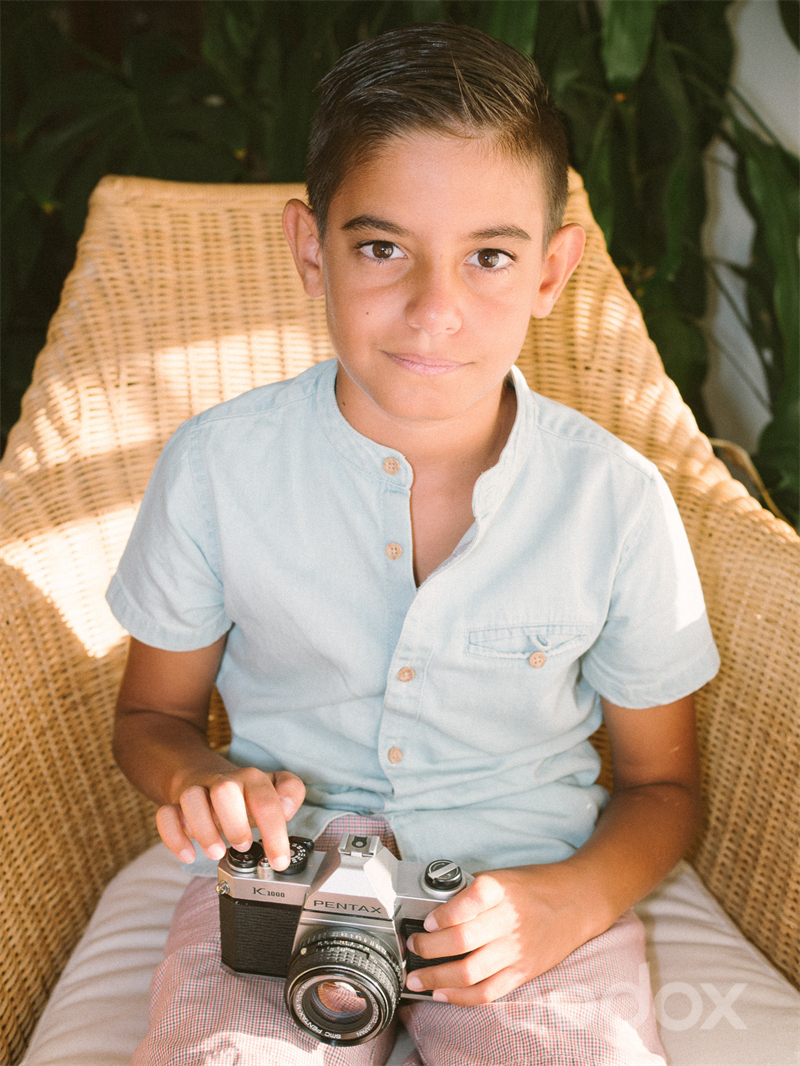 Olympus PEN-F . Olympus M.Zuiko 25mmF1.8 . f/2.8 . 1/125″ . ISO 320
Out of curiosity, I tried using the Lux Senior off-camera in slave mode, positioned diagonally in relation to my son. I used the Lux Junior as a trigger at its minimum power of 1/64, and it worked flawlessly.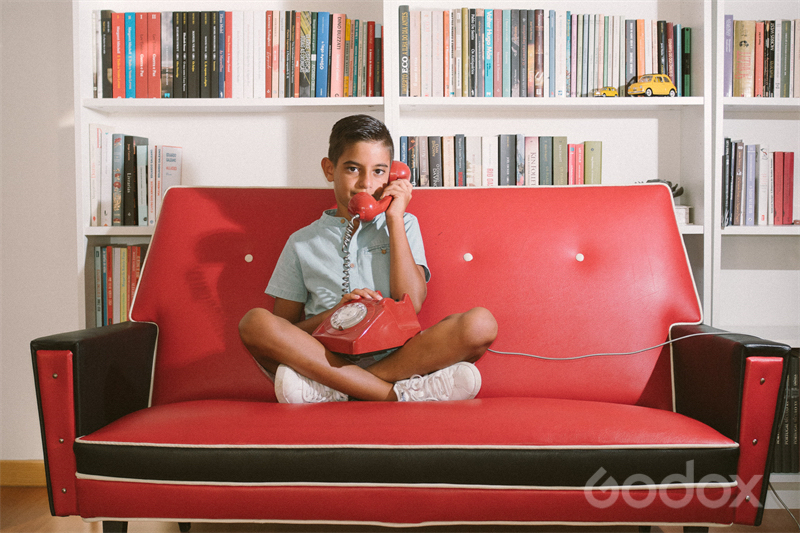 Olympus PEN-F . Olympus M.Zuiko 25mmF1.8 . f/2.8 . 1/125″ . ISO 320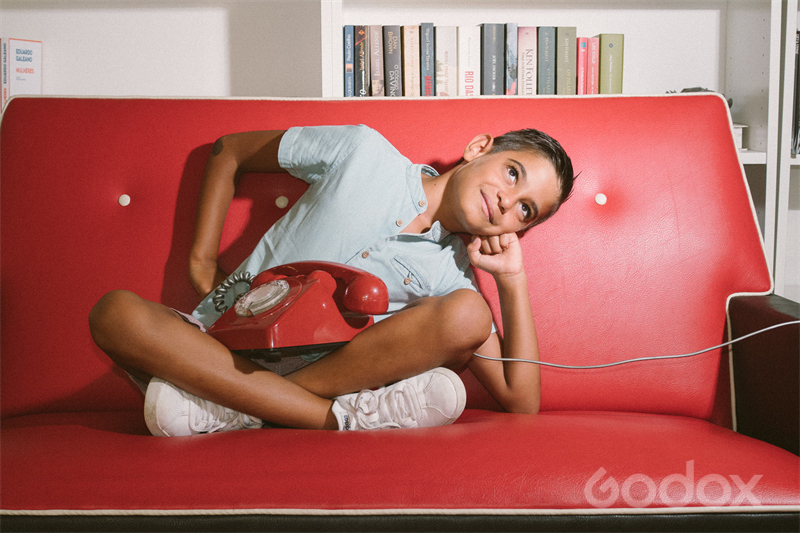 Olympus PEN-F . Olympus M.Zuiko 25mmF1.8 . f/4.0 . 1/125″ . ISO 320
THE PROS
There's not much new to say about this larger model, as everything I said about the Lux Junior applies to it. Closed, it is small enough to fit in a pocket, and can also be used with any camera, film or digital.
The lithium battery is very welcome, as is the option for a USB-C port – the standard these days.
But the highlight goes to its parabolic reflector, lending unparalleled style to your camera, and making it an instant conversation starter, wherever you go.
What I mentioned about the Lux Junior, concerning my forehead hitting the flash every time I look through the EVF, doesn't happen here on the Lux Senior, as it is much further back in relation to the camera.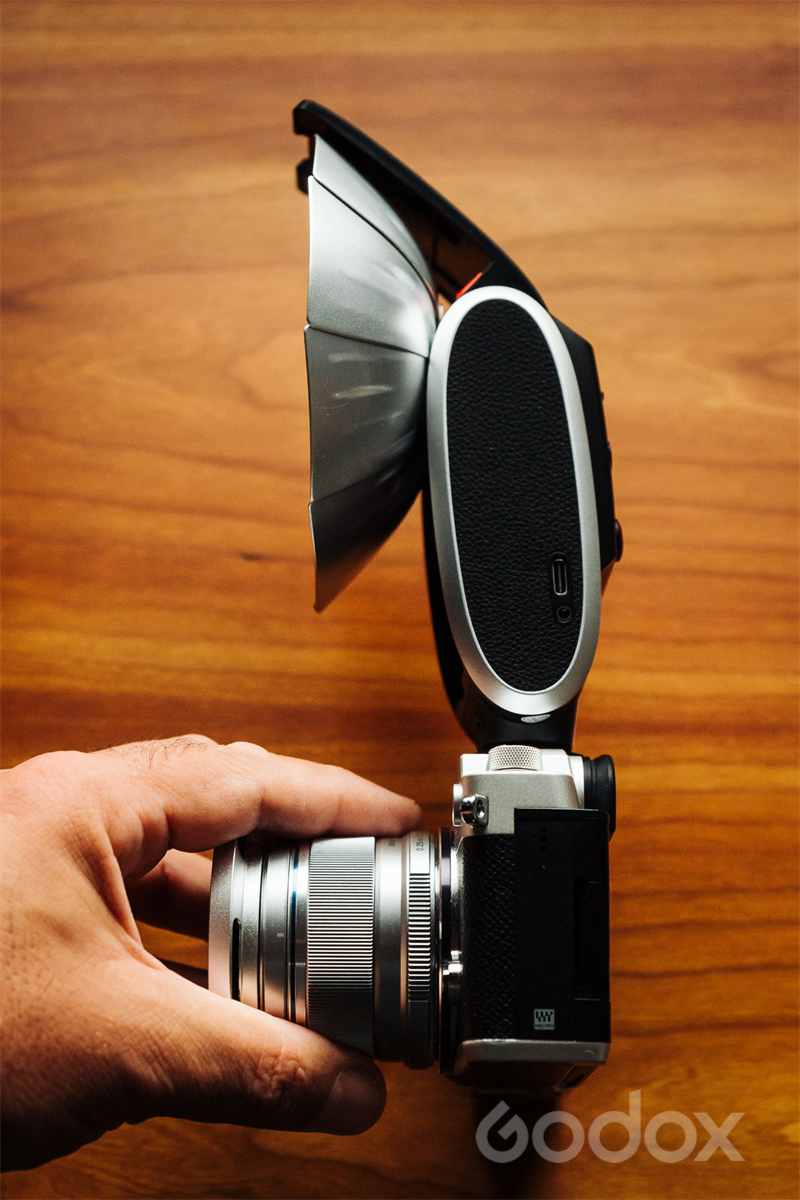 THE CONS
In this case, I won't mention the absence of a rotating/tilting head, because this flash is a pure fashion statement, and I wouldn't ask it for such features. And also because the parabolic reflector helps in the diffusion of light, so it is not so necessary to point it at a ceiling or wall to obtain indirect and more diffused lighting.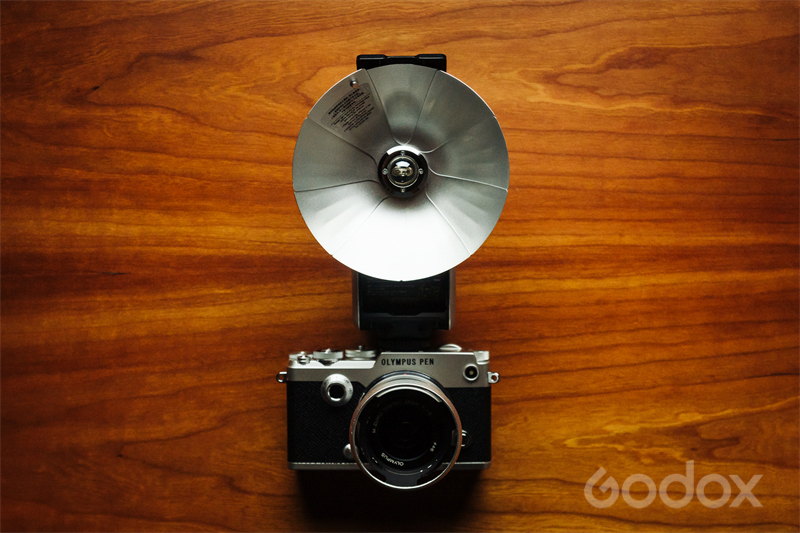 However, I have some critiques to point out after some time of use. And I start by mentioning the opening operation of the reflector blades, which are not as smooth as you would expect, and which sometimes require two hands and a little patience.
Then the need to pop up the flash bulb, not because of the extra step in using it, but because putting it back forces you to push it with your fingers. Call me stubborn, but I've always had an aversion to touching lenses and light bulbs with my fingers, and every time I have to wipe it with a small lens cloth to ensure no fingerprints remain.
And finally, the price of $119 (€169). I can't say it's expensive for everything else it brings in relation to the Lux Junior, but honestly, it makes you think twice because it's already starting to enter the territory of a Godox TT685 II Speedlite with TTL, HSS and wireless functions and GN60.
WHO IS THE GODOX LUX SENIOR FOR
If you want to spice up your photos, if you want to give your camera an absolutely unparalleled retro style, this is the flash for you. The same simplicity of use that you find in the Lux Junior, but even better looking.
The whole assembly process is to be enjoyed calmly, part of the pleasure comes from there. And yet, it does not lack modern features such as a rechargeable lithium battery and a fast recycling time.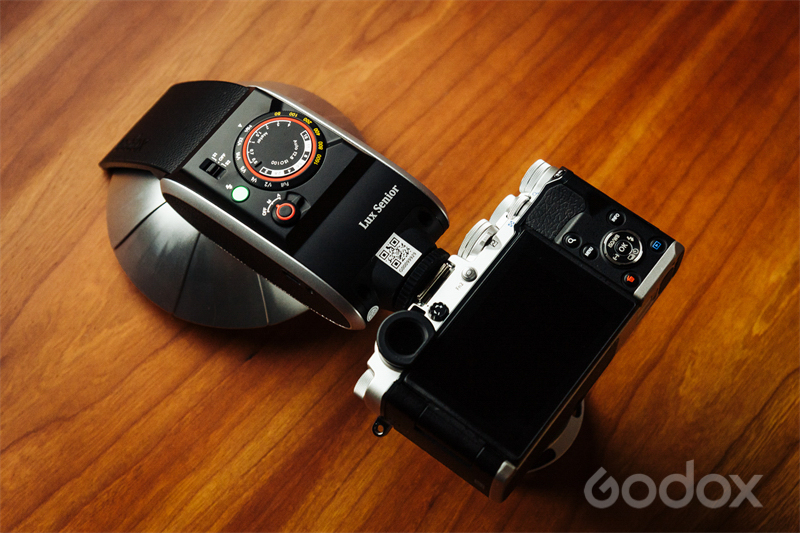 Godox Lux Junior or Godox Lux Senior, which should you choose?
I wanted to avoid the most obvious answer: it depends! If you prefer something uncomplicated and always ready to use, then the Lux Junior will be obviously the best option. But if you want an excellent conversation starter wherever you go, an exclusive piece of gear unique on the market, then there is no other answer than the Lux Senior.
Why do some people smoke cigarettes and others smoke pipes? The former is for the immediate need for nicotine, and the latter for the pure pleasure they obtain in each step until the pipe is ready to be lit. Think about it.
Hugo Pinho
https://www.olympuspassion.com/2022/09/08/the-new-godox-retro-camera-flashes/